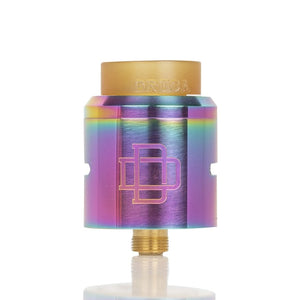 Behold a new era of pristine building capabilities and user friendly design with the Druga RDA by Augvape. Offering enhanced innovation, the Druga RDA contains the industry's first user friendly clamp snap system. With dedicated positive and negative posts, the Druga allows for quick coil swapping and straight to the point building that will give the vaper an incredible capacity to load any manner of coil types into its deck. This 24mm RDA features a 24 karat build deck constructed from the finest Stainless Steel 304 materials. The Druga was built to deliver incredible airflow directly to your coils while cooling your draw for a smooth and impeccable vapor production. This impressive rebuildable atomizer includes an ultem drip tip to decrease heat in your draw while delivering mouthwatering flavor due to its flawless construction. Be sure to buy your Augvape Druga RDA Clamp Snap System 24mm today!
What's Included:
1 x Augvape DRUGA RDA
1 x Hex Key
1 x Delrin Drip Tip
1 x ULTEM Drip Tip
1 x Spart Parts Package
Specs & Features
24mm Diameter
Two-Post Build Deck
Clamp Snag System
24K Gold Plated Deck
PEEK Insulator
20mm Deck Diameter
6mm Deep Juice Well
Rounded Internal Top Cap
Adjustable Dual Air Slots
304 Stainess Steel Construction
CNC Engraved
WARNING: This is an advanced Item. Please use at your own risk and always use proper precautions and handling. Rebuildable atomizers are for the experienced users with access to multimeters, working knowledge of ohms law and overall knowledge of electronic devices.