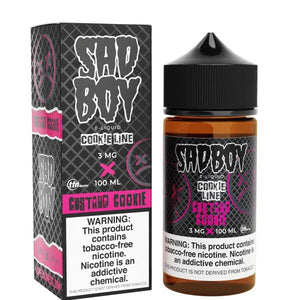 Sad Boy's TFN Cookie series combines sensational, cookie flavors, various desserts, and tobacco-free nicotine. Custard Cookie by Sad Boy is warm, freshly baked cookies topped with a scoop of sweet, creamy custard.
VG to PG Ratio:
You Will Receive:
1 x 100ml Bottle of Sad Boy TFN Custard Cookie

Don't see the strength you want? We offer custom dosing up to 12mg. Just let us know what you need in the notes at checkout and we will take care of the rest.