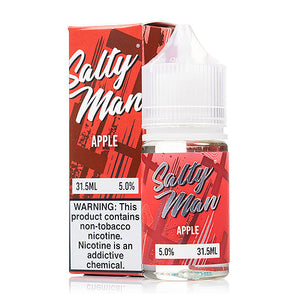 Salty Man has given us yet another reason to admire their assortment of vape juices with this enchanting delight. In line with all of their fine offerings, Apple delivers an exceptionally clean, pure, and natural-tasting flavor that is truly satisfying. Crafted with only the highest-quality ingredients, you are certain to relish this blend.
Apple E-Juice by Salty Man is a marvelous and authentic fruit flavor that is sure to tantalize your taste buds. Every draw of this gem rushes the tongue with the sweet taste of crisp red apples. You will appreciate the authenticity of flavor Apple affords, making ever puff better than the last.
If you use a low-output device and want a crisp and refreshing vape juice, give Apple by Salty Man a try.