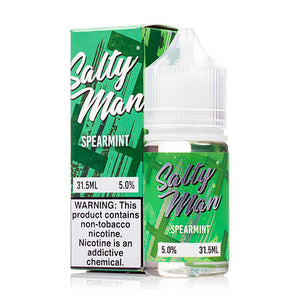 The talented artisans at Salty Man know that when it comes to rejuvenating flavor profiles, often times simple is better. One of the flagships of their coveted collection, Spearmint is a genuinely wonderful and exceptionally accurate offering that has enjoyed a passionate response from the global vaping community.
Spearmint E-Juice by Salty Man delivers a clean, crisp, and truly refreshing vaping experience that you will relish with every draw. This enchanting blend affords a very straightforward spearmint taste that is exceedingly smooth and refreshing. With understated hints of sweetness to round off the exhale, you will enjoy how well-balanced this gem is.
If you use a low-output device and are searching for an uplifting mint-flavored e-juice, it doesn't get much better than Spearmint by Salty Man.